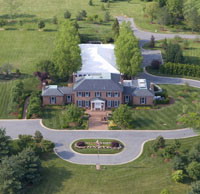 ANNAPOLIS, MD – Maryland Comptroller Peter Franchot cast the sole vote in opposition to the the demolition of the mansion occupied by the president of the University of Maryland's flagship campus at College Park.  The home is to be replaced with a $7.2 million residence to be paid for by the University of Maryland Foundation.
Franchot said that even though the money for the project comes from the foundation, which receives its funds through donations from alumni and friends of the flagship campus, using money to replace a mansion looks bad inder current financial conditions. The fact that the university may cut eight athletic teams if they cannot raise money to sustain themselves makes the construction project look even worse, Franchot said.

"The university is saving every penny it can, but a building that is perfectly habitable is being demolished," Franchot told representatives of the university and the foundation. "I don't see how you respond to your constituents."
Voting in favor of the demolition were State Treasurer Nancy Kopp and Lt. Gov. Anthony Brown (voting for Gov. Martin O'Malley, who was absent from the meeting).
photo courtesy of Maryland Reporter