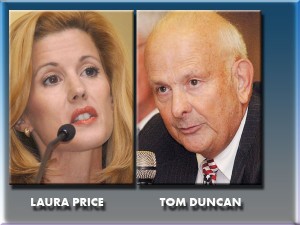 EASTON, MD – The Talbot County Council has approved the county's FY 2013 budget.  By a vote of 3- 2, the council approved a $69.7 million operating budget which includes increases to the county's real property and income tax rates.
The county's property tax rate will rise to $0.491, up from the current $0.448 per $100.  This increase includes a $0.026 "educational supplement" to cover state-mandated "maintenance of effort" (MOE) to the county's schools.  This increase is in excess of the county's revenue cap, but is permitted under newly passed state legislation.  The county's income tax rate will increase from 2.25% to 2.4%.
Council members Laura Price and Tom Duncan voted against the budget.  Both members had submitted amendments to the budget.  Price's amendment would have increased revenue without raising the income tax rate.  Duncan's amendment would have increased revenues without raising property tax rates beyond what was permitted under the cap.
Prior to adopting the budget, amendments were passed which restored funding to county fire companies, animal control, tourism, and economic development.  Cuts to the county's volunteer fire companies had been loudly decried by the public at the council's public hearings on the budget.