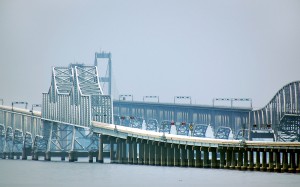 STEVENSVILLE – Today's Star Democrat discusses the feasibility of placing concrete barriers between lanes on the William Preston Lane Jr. Bridge (Bay Bridge).  There are obvious safety advantages in doing so.  There are also numerous problems:
The weight of the barriers and their possible impact on the bridges' structural integrity.
What happens if there is an accident?  How do emergency vehicles access a lane that is sealed off by concrete barriers?  How do you get traffic behind the accident out?
photo courtesy of the Star Democrat